Catene condizionali¶
Python prevede un modo alternativo di scrivere condizioni annidate.
if

 

x

 

<

 

y

:


    

print

(

"x is less than y"

)




elif

 

x

 

>

 

y

:


    

print

(

"x is greater than y"

)




else

:


    

print

(

"x and y must be equal"

)



Il flusso di controllo è lo stesso di quello visto precedentemente.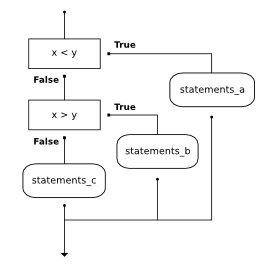 elif è un'abbreviazione di else if. Ancora una volta, verrà eseguito esattamente un branch. Non c'è limite al numero di istruzioni elif ma solo una istruzione else è ammessa e deve essere l'ultima della catena.
Ogni condizione è controllata in ordine. Se la prima è false, viene controllata la successiva e così via. Se una delle condizioni è vera, il ramo corrispondente viene eseguito. Anche se più di una condizione è vera, solo il ramo corrispondente alla prima che lo verifica viene eseguito.
Lo stesso programma di prima usando elif.
In questo caso, per qualsiasi coppia di valori x e y positivi, Second Branch non verrà mai stampato.
Se però x fosse negativo e anche y (con y tale che x<=y e x>2y), Second Branch potrebbe essere stampato.
Next Section - Funzioni Booleane